COAS attended funeral prayers of helicopter crash martyrs | The Express Tribune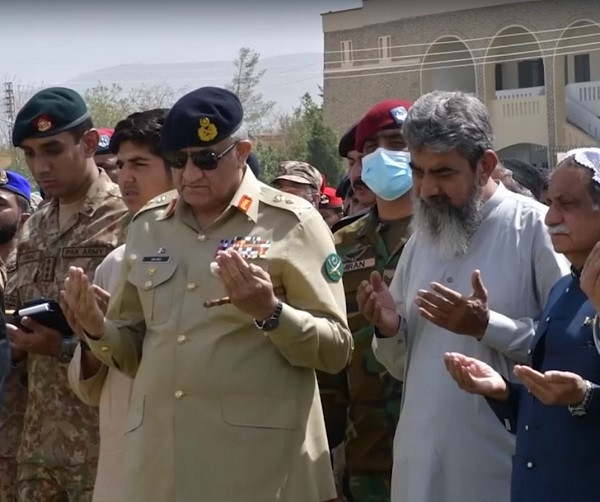 COAS attended funeral prayers of helicopter crash martyrs | The Express Tribune
Army Chief of Staff General Qamar Bajwa attended prayers for the funerals of Lieutenant General Sarfraz Ali and Brigadier General Muhammad Khalid, who died in the helicopter crash in Balochistan, Inter-Services Public Relations newspaper reported. (ISPR) said on Wednesday.
Balochistan Governor Mir Jan Muhammad Jamali, Governor Mir Abdul Quddus Bizenjo, provincial ministers and a number of civil and military officials, including relatives of the martyrs, attended the funeral.
According to the Army Media Wing, COAS visited the family of Lieutenant General Sarfraz Ali and Brigadier General Muhammad Khalid as well as the family of Lieutenant Colonel Laiq Baig Mirza, who was martyred in Ziarat.
The remains of the martyrs of the helicopter crash have been moved to Rawalpindi. The Three Martyrs' Namaz-e-Janaza Center will be presented at the Army Cemetery in Rawalpindi at 5:30pm today.
Martyrs should be buried with full military honor, ISPR added.
Mourning for martyrs
Funerals for other members of the military aboard the ill-fated helicopter were held in their hometown.
Major Talha's funeral was held in Rawalpindi in the presence of Pakistan Army Chief of Staff, Lieutenant General Azhar Abbas, Lieutenant General Sahir Shamshad Mirza, Rawalpindi Corps Commander, other army officials, close friends of the martyrs and other civilians present.
Read Orderly Rain Casualty Assessment
A Pakistani army presented its honor guard and the martyr was buried with full military honor. The Rawalpindi Corps commander presented the Pakistani flag to Major Talha's father and a wreath was laid.
The funeral of Naik Mudassar Fayyaz is prayed at Shakargarh, Narowal. The commander-in-chief of the Sialkot post, along with senior military and civilian officials, attended the funeral.
The squadron presented the honor guard, the national flag and laid a wreath.
Major Saeed's funeral prayers were held in Larkana with Logistics Commander Pannu Aqil Garrison, senior service officers, soldiers, relatives of the martyrs and some civilians attending the ceremony. pray.
The Pakistani flag is presented to the martyr's father and he is buried with full military honors