PTI protests outside ECP office, urges CEC to resign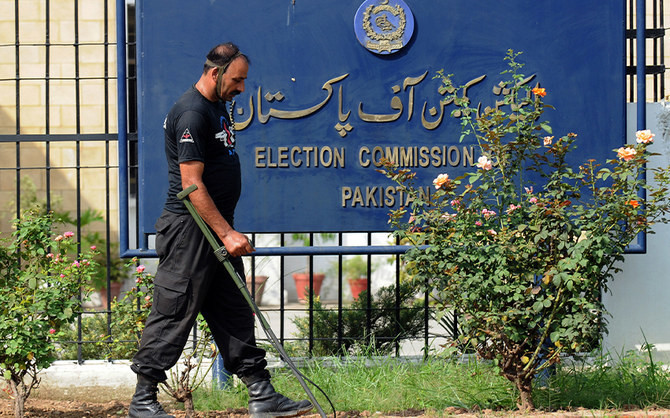 PTI protests outside ECP office, urges CEC to resign

ISLAMABAD:

A large number of PTI supporters and lawmakers 
went to
 the Election Commission of Pakistan (ECP) office in Islamabad 
on Thursday
 and staged a 
rally.
PTI leaders include Asad Umar, Fawad Chaudhry, Shiekh Rashid, Pervez Khattak, Azam Swati and others.
Speaking to the media, Asad Umar said that the electoral body no longer functions as a state agency, but a branch of the Pakistan Democratic Movement (PDM) coalition. He urged the chief election commissioner to resign, adding that two provincial councils had passed resolutions against the ECP and cited a lack of confidence in the body.
The rally was also attended by a significant number of PTI lawyers. This party also sent a letter of objection to the representative of the ECP.
ECP earlier today called a meeting in Islamabad to discuss the Pakistan Tehreek-e-Insaf (PTI) rally to take place today.
Chaired by Chief Election Commission (CEC) Sikandar Sultan Raja, Islamabad Deputy Commissioner Irfan Nawaz Memon briefed on the security situation in the capital.
During the meeting, PTI leaders decided not to be allowed into the election commission headquarters due to security threats.
"Nobody is allowed into the ECP," said Deputy Commissioner Memon.
Meanwhile, the time and place of the protest planned by PTI have been changed. The party has called for a rally at 3pm in Nadra Chowk, near the ECP building. However, the venue has been changed to F9 Park and is scheduled to be held at 6pm.
Party leader Imran Khan is expected to speak at the rally at 7pm today.
It can be noted that yesterday, Interior Minister Rana Sanaullah warned PTI about the consequences of a planned protest in front of the ECP office located in the red zone of the federal capital.